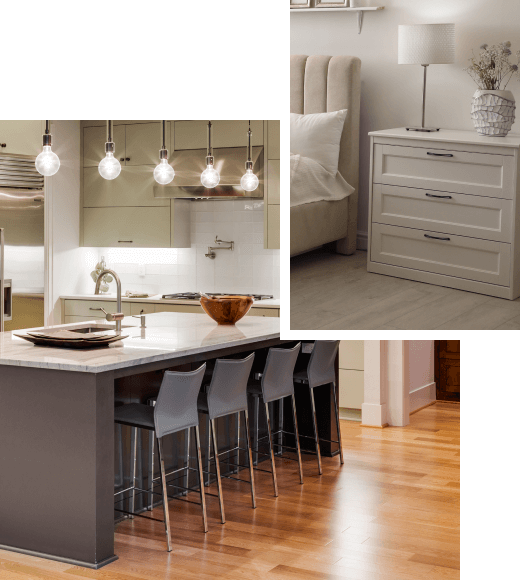 Laminate Flooring
In A Nutshell
Laminate flooring consists of high-density fiberboard that is covered with a melamine laminate top. The surface is highly resistant to scratches and stains and is very easy to maintain. Unlike hardwood floors, laminate flooring systems do not fade when exposed to sunlight. There is no need to continually use wood stains or protectants year after year, which means that your maintenance costs are kept to a bare minimum.
Laminate flooring is among the most popular flooring materials sold on the market today. It is perfect for families with an active lifestyle. Laminate flooring offers the look and texture of real wood without being susceptible to contracting or expanding from humidity.
Key Highlights:
Incredible Versatility
Perfect for Families
Cost Efficient Flooring
Due to their technological advancements, laminate can now be manufactured to mimic even hand scraped and wire brushed hardwoods. Not only is laminate an economical choice but is incredibly aesthetic as well. Showroom samples available.
Budget-friendly
Meets Durability
The most notable advantage of selecting laminate flooring is that it is a very cost-effective choice. You are able to achieve a wide range of designs, including the look of luxurious hardwood flooring, without breaking the bank. Laminate flooring allows you to stay on budget while hitting aesthetic goals for your clients without having them compromise on durability.
We are a trusted flooring wholesaler and distributor for contractors and retailers across Canada. We have established long-term partnerships with reputable renovation companies, independent contractors and retailers due to the reliability, great customer service and in-depth inventory we offer. Finish projects seamlessly without a hiccup when it comes to sourcing your floor coverings with us!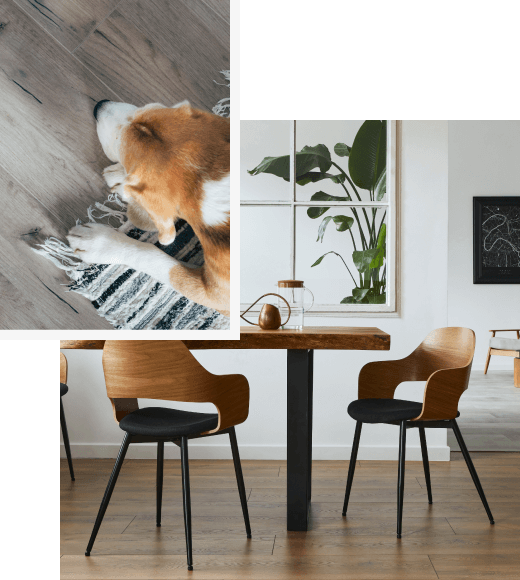 Some Frequently Asked Questions
Let's Talk
Talk to one of our representatives today! Find out how we can get you stunning flooring options at unbelievable manufacturer pricing.
Contact Us